SmartDocMD: The Online Health Screening Solution You Need for Optimal Wellbeing 
Are you feeling under the weather but not quite sure whether it's anything serious? With COVID-19 and seasonal allergies, it can be tricky to know if something more is going on inside your body. That's why SmartDocMD offers a comprehensive online health screening solution, making it easy to figure out what's happening – from the comfort and safety of your own home! This virtual option for getting screened for sickness means no long waits in an office or clinic — just efficient care that gives peace of mind and helps protect everyone around you. Let's learn more about how SmartDocMD makes online health screening quick and streamlined so you can get back on track with optimal well-being.
SmartDocMD and the Importance of Health Screening Online
Let us introduce you to SmartDocMD, your go-to solution for online health screening. We know how important your health is to you, and that's why we've designed this platform to make health screening quick, easy, and affordable. With SmartDocMD, you can receive triage or screening for a range of conditions and diseases from the comfort of your own home. No more sitting in waiting rooms or shelling out big bucks for doctor's visits. Our user-friendly platform and team of online healthcare professionals are there to guide you every step of the way. So why wait? Take control of your health today with SmartDocMD.
How SmartDocMD works and its features
This innovative online healthcare service utilizes artificial intelligence to provide patients with quick and efficient medical attention from the comfort of their own homes. With its easy-to-use virtual platform, SmartDocMD connects patients with board-certified physicians, allowing for diagnoses, prescriptions, and medical recommendations to be made in a matter of minutes. Plus, this service is available 24/7, meaning you can receive care whenever you need it, day or night. Say goodbye to long wait times and hello to SmartDocMD!
Benefits of online health screening compared to traditional health screenings
Maintaining good health is essential for a fulfilling life, but let's face it, traditional health screenings can be time-consuming and often involve an uncomfortable physical examination. Thankfully, with the rise of online health screening, you can now enjoy the convenience of monitoring your health from the comfort of your own home. Online health screening offers several benefits, such as accessibility, cost-effectiveness, and even privacy. Not to mention, online screenings provide quick results and allow you to track your progress over time. So, if you're looking for a hassle-free way to prioritize your health, online health screening may just be the perfect solution for you.
Examples of What Types of Screenings You Can Do
With SmartDocMD
Do you ever wonder if you have a simple cold or something more serious? With SmartDocMD, you can do a variety of screenings to get a better understanding of your symptoms. SmartDocMD also offers screenings for common ailments like sinus infections, pink eye or eye allergies, Urinary Tract infections, Colds/Coughs, and yeast infections. By using SmartDocMD, you can quickly and easily assess your symptoms and get the appropriate care you need. Plus, with the convenience of doing it all from your own home, you can feel confident in getting the help you need without putting yourself at risk.
Why Online Health Screening is Important For Your Wellbeing
Taking care of your health is essential, especially nowadays when Covid- 19 is threatening us all. That's where online health screening comes in handy. This tool has become increasingly important in recent times and for a good reason. With online health screening, you can identify potential health issues early on, allowing for proactive intervention that can prevent minor problems from becoming major ones. Not only can it help you detect health issues early, but it can also help you track your progress over time. This way, you can adjust your behavior or lifestyle and improve your overall health status. So, if you haven't tried online health screening yet, consider incorporating it into your wellness routine!
How to get started with SmartDocMD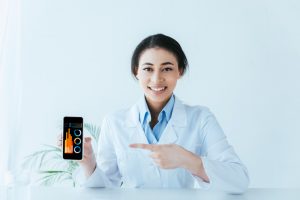 If you're looking for a convenient and efficient way to access medical care, SmartDocMD may be the solution you need. This innovative telehealth platform allows you to connect with medical professionals from the comfort of your own home, saving you time and hassle.
To get started with SmartDocMD, simply visit their website and create an account. Once you've done that, you can fill out a brief medical questionnaire to help the team understand your specific needs. From there, you'll be connected with a licensed healthcare provider who can give you a diagnosis and prescribe any necessary medication. With SmartDocMD, you can enjoy the peace of mind that comes with knowing that you have access to quality medical care whenever you need it.
Get Started with SmartDocMD Today and Take Control of Your Health
Overall, SmartDocMD provides easy access to health screenings online without you having to worry about finding a doctor or dealing with transport difficulties. It puts the power of resourcefulness and cares into your hands. Moreover, it gives you access to medical advice, specialists, and medication all through one platform. With SmartDocMD, you can be sure that getting an online health screening done is quick, simple, and hassle-free. So why not give it a try? You can have peace of mind knowing that taking a proactive approach toward your health and well-being doesn't have to take much time or effort. Start protecting your health today!