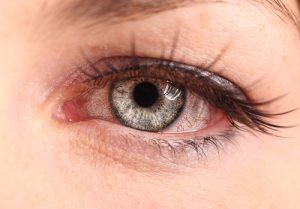 Pink Eye, also called conjunctivitis, is a painful, red eye condition that occurs when the conjunctiva of the eye becomes inflamed and irritated due to bacteria, a virus, or allergens. The eye will have a thick, goopy looking mucous that covers it, and many times the eye will be swollen. Pink Eye is very contagious and very common in young children. Usually, a doctor will prescribe pink eye drops to clear up the bacterial infection and within a day or two the symptoms are virtually nil. If you have received a prescription for pink eye, you should follow your doctor's specific instructions on using the pink eye drops and finish the course of treatment that they recommend.
Think you have pink eye and need some prescription pink eye drops?
Patient's should never use a friend or family members prescription eye drops for pink eye as you could further damage your eye. Click to start your care now if you think you have pink eye and need pink eye drops to clear up the infection.
Pink Eye is one of the common illnesses that SmartDocMD treats thru our innovated online doctor visit service. Our service is just like going to a doctor's office but without the wait. Simply let the SmartDocAI guide you through the online patient interview where you will tell us what is wrong and provide your medical history to us. You'll receive a free personalized health screening and triage will be provided based on your responses to the OPI. We will offer guidelines specific to your illness and suggest ways of finding treatment and alert you to any additional conditions that you should be aware of at no charge.
If you choose to speak to one of our online doctors California, you will be connected to a US board certified physician for a very affordable cost. You'll save time, money and you'll receive a prescription for pink eye drops if your condition requires this. You can also feel good about helping patients that do not have access to adequate healthcare as we partner with free health clinics and offer services and medications to communities that are affected by access to healthcare. For each online doctor visit you make, we will donate time and money to our partners in these endeavors.
What About Over the Counter Pink Eye Drops?
Pink Eye symptoms can be alleviated from time to time with over the counter drops. Certainly, adding pink eye drops to your doctor's prescribed treatment will help, however over the counter pink eye drops do not treat a bacterial infection, if that is the cause of your pink eye.